How to do a Tenant Background Check like a Pro?
Having a bad tenant can be a nightmare for any landlord. It is important you have a tenant background check before they move into your property. A bad tenant can give you hardships in your landlord business and can even create problems for society. And there is nothing much you can do about it other than evicting such tenants. But that will further cost you legal and financial troubles. So it becomes important that you do a thorough tenant background check before renting the place to them.
You should start by asking a few questions before renting your apartment to the tenant. If you feel, the prospective tenants qualify your rental criteria. Follow up with a rental application and their consent to run a tenant background check on them. The rental application enables you to verify rental history, criminal records, any past evictions, credit history and whether they have a source of income or not. Found any default, you can simply reject their application.
Steps to Follow during Tenant Background Check
There are certain steps you must follow to do a thorough tenant background check on prospective tenants. However, successful landlords always suggest hiring a rental management company to do such tasks. But if you choose to do it on your own, here are the steps to do the tenant screening like a pro.
#1 Interview the tenants
The first step of the tenant background check starts with a quick interview of prospective tenants. This interview will give you a glimpse of their lifestyle and whether they qualify your rental criteria or not. You can have this quick interview over a call or can use Google forms to make the process even smoother.
Questions to ask Tenants before Renting the Apartment
Why you need this new accommodation?
From when you want to move in?
Do you require parking space if you rent here?
How many people will be living with you?
Do you smoke?
Are you previously renting somewhere?
How many pets will be staying with you?
How long were you renting the previous place?
Do you have a reference for the previous landlord?
Does your previous landlord know you are moving here?
Do you have any remaining dues with the previous landlord?
What kind of job you do?
Where are you employed currently?
Are you fully aware of the rental application process?
What is a rough estimate of your income?
Will it be fine to run a Tenant background screening process on your application?
Have you ever been evicted?
Do you have any criminal records?
Is there anything you want to tell before starting the Tenant background screening?
Will you be able to pay the security deposit during the lease signing?
>>Read: How to have a personalized Rental Criteria?
---
#2 Check Tenant`s Public Records
Getting answers to the above questions, you can briefly understand the kind of tenant you will be having at your place. Interviewing prospects first hand will help you pick the right tenants and eliminating the bad tenants in the first place itself.  Ensure to always have this kind of pre-screening before having tenants visit at your property.
Now, if you feel the prospective tenants have made to your rental criteria, make them fill your rental application.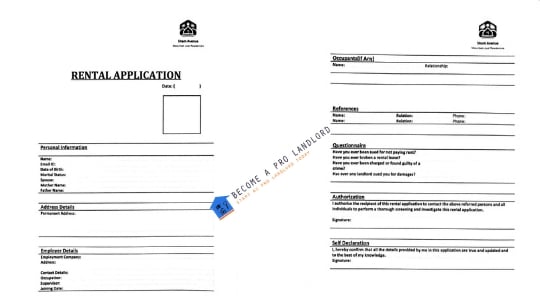 A rental application is the most important aspect in the line of a tenant background check. It helps you to do a thorough inspection of the public records of the prospective tenant. Inspection of public records will help you know the tenant`s past and whether are they right to stay at your property? The Tenant`s public records will give you the exact background check of the tenant and then you can peacefully let them rent your house. These reports can be accessed by using the tenant`s social security number.
There are various online companies that can generate the Tenant`s public records report for you. Having tenants with questionable public records can put you in danger and they can become a potential risk for the neighbors and other tenants. You should stay away from renting to such tenants and does a complete background check always. You should know about any evictions, criminal records, tax liens, foreclosures, and bankruptcy cases if any of the tenants.
The eviction happens if the tenant hasn`t paid the rent or has not abide by the terms of the agreement. Such tenants are prone to get evicted again and that can become a hassle to you.
The criminal record check gives details of all possibly reportable crimes. You should stay away from tenants that were convicted of a crime. However, you must look deep into the records if the tenant was just arrested and not held convicted for the crime.
If your tenant has pending tax payments, the IRS can liquidate renter`s assets or garner his wages to fulfill pending tax lien. In that case, your renter may not be able to pay the rent and can create a problem for you.
If the prospective tenant has a history of bankruptcy, you should reconsider them before having on property. If a tenant has charged for chapter 7, you must immediately reject his application. And, if they are charged under chapter 13, you can consider them but only after due diligence.
---
#3 Run Tenant`s Credit Check
The third step in the tenant background check is running a credit check on the prospective tenants. It is important to ensure that your tenants will be financially capable. They will pay the rent on time and will not delay the payments. Having the credit report of your tenant, you can assess their habits whether they make timely payments or delay it often. Being a landlord, you must need a written consent from the prospective tenants to run a credit check on them.
A tenant with good credit is a boon for a landlord. Every landlord wants such tenants but you should always ensure to have a security deposit even if they have a good credit score. But if you find a tenant with negative credit history, you can reject them with a proper documented reason. However, it is always advised to talk to them about their bad credits and have due diligence. They might have a hard time but they do understand their financial responsibilities. Ensure these checkpoints when reviewing someone`s credit history.
You should look for hard inquiries while reviewing the credit inquiry report. It gives you a clear view of how many times the prospective tenant has applied for a loan. High credit inquiries mean your tenant often requires credits which can be a good reason for you to reject their application.
The credit history of your tenant will give you a clear picture of a tenant`s borrowing history. You can view whether they have any bounced installments, late payments, credit card defaults or worst bankruptcy.
It is important to verify the prospective tenant`s credit score before renting him the property. A good credit score means that they have the right income to debt ratio. And you can expect timely rent payments without any default.
The current debt report of the prospective tenant will help you understand the financial stability of the tenant. Whether they have maxed out their credit limit and are high on liabilities. Lots of liabilities mean a delay in rent payments or even worse.
---
#4 Previous Landlord References
It is always a good idea to have a prospective tenant`s previous landlord references. Most landlords sometimes skip this step thinking they have already checked their credit and public records. The tenants might have stood tall on these two but that doesn't verify their credibility for society and fellow tenants. Speaking to the previous landlord will give you a glimpse of how they were earlier staying at their past accommodation.
You can always call the previous landlord and ask some questions about the prospective tenant residing term at their property. By asking the previous landlord, you can understand the part of your tenant`s personality. Mostly all the landlords ask just two questions that whether they have any pending dues or ever they delayed payments. However, you should dig a little dipper and ask these also important questions to previous landlords.
Do you know that the tenant is moving to a new property?
Does the tenant have any previous dues with you?
How regular tenant was making rent payments?
Did tenant ever default on any payment?
Had the tenant caused any damage to the property?
How was tenant behavior with the neighbors?
Was tenant qualified to receive their security back while moving out?
Had you evicted tenant?
Had tenant caused any nuisance during the stay there?
Will you rent your apartment to the tenant again future?
---
#5 Contact Tenant`s Employer
The fourth and important step in the line of tenant background check is to validate prospective tenant`s income and employment records with their employer. The tenant must have a steady and stable income to pay rent on time. You can take details of the employer and the payslips from the prospective tenant`s itself.  Getting them from tenants, you can verify them directly from the employer (HR) by giving a quick call.
You should always first call them and inquire if they need a signed rental application for the tenant verification. You can easily mail them the rental application to verify the details of the tenant. Once they review the application, you can have a quick call over the phone. These questions will help you get the job done the right way.
Is the tenant current employee in their company?
What is the tenant`s hiring date?
Is the tenant a part-time or a full-time employee?
What is the Tenant`s job profile in the company?
What is the tenant monthly or annual salary?
Is the tenant on a contract basis or a permanent employee in the company?
---
The Bottom Line
It is really important that you have a thorough background check on tenants before having them on your property. There is no good in renting to bad tenants and regretting it afterward.
Recommended reading: Why to set up a custom lease when putting a tenant on your property?