Why have Custom Lease Agreement? Don`t be another regretting Landlord
Isn`t it more convenient to simply write "Free Rental Lease Agreement" in Google and download the copy that pops on your screen? Why would even bother to go for a custom lease agreement? After all, you need to pay extra bucks and spend more time in getting the custom lease drafted. A lot of newbie landlords often mistake of using premade lease agreement and later find themselves in muddy waters. 
Having a bulletproof custom lease agreement is the only way to run your rental business with a complete peace of mind.  See, there is no problem running the rental business with a free lease but only till the time you actually run into a situation where you have to enforce it. You are even barred from using your valuable landlord rights the point your lease becomes unenforceable. 
A Note
You may have now got an idea on why to have a custom lease for your Property Rental Business. If yes, we have lots of good information coming in this article. You will learn how to prepare a custom lease agreement and ways to make it bulletproof. But still if you don't feel the itch yet, here is an interesting fact for you. 
There are various tenant scams happening all over the country which are victimizing the landlords. Not only the scams affect your business but your personal assets also stays at risk. And not having a customized state specific lease agreement, you are making matters even worse for you. 
"Read: How forming an LLC can protect your Rental Business?"
What is a Custom Lease Agreement? 
In a Custom Lease Agreement, you can include addendum tailored according to your needs. These addendum  should comply with your state or federal laws and are state specific. Some points that are valid in one state might not be valid in another state. 
A word of caution here is that even being a custom lease, you cannot just add any term according to your will. You are required to use a specific language governed by law and make disclosures accordingly. It is always advisable you get your lease reviewed by a state lawyer before getting it signed by a tenant.    
How to make a Custom Lease Agreement completely Bulletproof?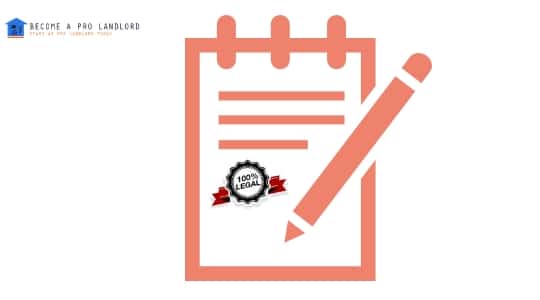 A lease is the most important document as it inks the rights and duties of both parties. It is the lease agreement that will come handy if any issues arise between the parties. Having a right lease, you are asserting your tenant to set his expectations. After the tenant sign the lease, he is compelled to behave a certain way when he is renting from you.
Also now your tenant can clearly understand what his rights are and what can he expect from his landlord during the stay. So when you are preparing a custom lease agreement, you should be very specific about your rental terms and your requirements.  
Important Points that must be Specified Clearly in the Rental Lease Agreement
Complete Details of Both Parties

Address of the Rental Property 

Rental Term

Lease Start Date

Lease End Date

No. of Occupants

Details of Occupants (If Any)

Rent Amount

Additional Payments (Not included in rent)

Rent Due Date

Late Payment Instructions

Tenant Rights and Responsibilities

Landlord Rights and Responsibilities
When you are writing a custom lease, the above points are the basic necessary points that have to be included and specified in your lease. However, you can also include additional clause to make your rental lease even better. 
Clauses you can consider adding to your Custom Lease
Smoking Allowed in your rental or not

Pet Policy (Pets Allowed/ not, Pet Deposits, Pet Fees etc.)

Guest Policy (No. of Maximum Guests Allowed, Guest Stay Allowed/not)

Subletting Penalty

Notice to Vacate Instruction

Charges for breaking the lease 

Liquidation Charges (In case of Delay in Vacation of Premises)

No Responsibility of Landlord For Damages (Apart from Negligent Acts of Landlord) 

Renter`s Insurance Mandatory/ Not

Severability clause
Guest Policy is a recent addition to my Lease Agreement. Some days back, I occur to multiple noise complaints from my tenants due to one of the tenants usually has friends come over to his place and party all night long. You can always add a clause to your lease if you feel it necessary. The only thing needed is that both parties agree to it. 
Related: How to handle noise complaints like a Pro? 
                 Protect Your Investment with a Landlord Insurance
Where to get a Custom Lease Agreement? 
Making a Custom Lease Agreement is simple as there are various ways to do so. You can create your custom document by either of these ways.
Going to an Attorney: 
To start with, you can visit an attorney and have them draft a custom lease for you. They know all the state laws and can help you draft an enforceable lease agreement . However if you already have a lease prepared with your custom addendum, you can have your lawyer to review it. 
Typically, a lawyer will charge you about $450-$1000 for preparing the lease depending upon its complexity and time required for job. Though, some lawyers also charge on an hourly basis. You can hire them by paying somewhere from $150 to $200 for an hour.   
Using Online Property Management Tools: 
There are various online property management tools available for landlords these days. You can simply create your lease agreement by using these tools. The tools that I recommend most includes
Avail provides you custom state specific lease that are approved by attorneys. It even provides you with an option of making digital signature which is convenient for both you and your tenant. It has various plans for landlords. 
For the custom lease agreement, the landlord plan starts at $9.99 per month. If you are purchasing the landlord plan from Avail, you are also getting benefits like collection of rent online, tenant background checks,  and much more for your property management needs.  Don`t miss the 7 Day Free trial offer available at signup on Avail. 
Spark Rental Property Management has various tools available for most of your property management needs. With Spark Rental management software, you can create a state specific Lease Agreement in just less than 90 seconds. A general lease agreement costs nothing and is free for landlords.
Even if you go for a state specific lease agreement, it costs only $29. However if you choose their premium and ultimate plans, drafting a state specific lease agreement costs mere $19 and $9 per lease respectively. Also, they offer a stand alone lease in word format at $49.99 which is completely editable and reusable for future purposes.
Landlord Forms Websites
A fast and an effective way to get your custom lease drafted is by simply purchasing from an online website. There are various online websites that deals specifically into Legal Forms and fits all type of your landlord needs. These websites include
EZLandlordForms.com : 25+ Landlord Forms including State Specific Lease which starts at $29.95/monthly)
RocketLawyer.com : Get Hundreds of Legal Documents including state specific lease in just $39.99 monthly
UsLegalForms.com :  Going for a State Specific Lease costs around $50.96 to $67.96
FormSwift.com

:

Draft General Lease Agreement at zero cost
Why Rocket Lawyer has been my #1 choice for drafting the Lease Agreement?
Rocket Lawyer makes it easy for any DIY Landlord to run his or her business with an ease. It has all the legal help available with just one click at one place. Be it the legal documents, rental forms, incorporation or consulting a lawyer; everything is possible. You just need to pay $39.99 per month for its premium membership.   Don`t forget to avail its **7 Day Free Trial** exclusively for its new members. 
Let me tell you my reasons of narrowing down to Rocket Lawyer for my Custom Lease Agreement needs.  
Lease Agreement gets ready in less than 5 minutes by filing of some simple details.

You can access the document anytime from any device. 

Download and Print of document is also possible.

You can digitally sign the document and even share it with your tenant to sign it online.

You can add custom clauses and later can consult an attorney for your legal questions which is absolutely free.

Rocket Lawyer also provides a 30 minute free consultation on every new legal matter. 

You can also hire their on call attorney service with up to 40% discount by becoming a premium member on Rocket Lawyer. 

The main highlight that tempts me for going with Rocket lawyer is their Document Defense feature. With Document Defense feature, you always have help from an attorney in case dispute arise regarding any contract prepared with Rocket Lawyer. You will have an attorney that will review your situation and can respond on your behalf. 

The Bottom Line
Rental Lease Agreement is one of the most important documents for any landlord. In fact, it is one document that sets grounds for a good relationship between you and your tenant. And, no doubt how important it is to have a sound relationship between the two parties for a profitable business.  
So it becomes really important, you put close attention on what goes in the lease. And never make a mistake by going with some kind of free lease agreement.  Having a bulletproof lease agreement is what you need in a rental business as it always addresses any concerns if in the time of need.