How To Become A Pet-Friendly Landlord? (Allowing Pets in Rentals)
I never allowed a pet ever in my rentals all these years. And hardly are landlords willing to rent to someone with a pet. No matter how much you love pets, it is a matter of your investment property. But what if your tenant requests to have a pet in your rental property or have a pet sneak in when it is forbidden? You can either evict and lose this tenant. Or, you can be actually smart about it and can have a pet-friendly rental. 
More and More Tenants are looking for pet-friendly rentals. And if your rental doesn't allow pets, you are missing out on a lot. Be smart about how to rent to a tenant with a pet without a fuss. And when to really deny pets for the good interest of your business.
Why You Should Consider Allowing Tenants To Have Pets At Your Rental Property?
When you carefully allow pets at your property, you are protecting your business from a disgruntled tenant who is sad about the denial. Or, someone who will anyway sneak in the pet without your permission. Apart from your tenant`s perspective, allowing a pet also opens up a world of opportunities for your business. 
Do you know how many pet-friendly rentals are there in the US? 
According to a survey, 68% of households in the US have pets. But the landlords who allow pets make up only 55%. Either tenants with pets have to leave their pets behind or struggle to find a pet-friendly place. 
One such tenant narrates his experience finding a place to rent with a pet. When he hit the filter, 'Pet-Friendly Rentals', the search results were cut in half. This means only a few landlords allow pets and tenants have limited options of such pet-friendly rentals near them.
But what if you can work up with these groups of tenants who are looking for pet-friendly places to stay? Imagine how appealing your listing can become? 
Pros of Allowing Pets At Your Property
Though it is difficult and hard to ignore the fact that pets can do a lot of damage to your property. But you have to consider allowing pets at your rental for good while acting with prudence. The possible pros of having a pet-friendly rental are
As I said that when you allow pets, your listing appeals to a wider group of renters. This can be a nice thing for your business if you are lately struggling to get your place rented.
As per the data by Transunion, 54% of apartments have tenant turnover every year and landlords have to lose thousands of dollars while seeking newer tenants. But to your surprise, pet owners tend to stay longer at the property. According to FIREPAW, tenants with pets can tend to stay as long as 46 months compared to 18 months before moving to a new place. 
Likely To Make More Money:
When you allow pets at the rental property, you can charge a higher rent for the same place. The Pet rent is the monthly recurring rent in addition to the pet deposit that you charge one time for damages. On average, landlords charge $25-$100 in pet rent every month depending upon the type of pet, size of pet, and the number of pets. $25 extra a month equates to an additional $300 yearly. 
Note: Landlords cannot charge additional pet rent and deposits for Service and Emotional Support Animals.
Also Read: 23 Brilliant Hacks to make more money from Rental Property for Landlords?
But, What About The Damages by Pets on My Rental Property?
Yes, rental owners tend to stay exposed to unwanted troubles when they have a pet at their property. Pet damages, though, sound scary but they aren't that bad, provided you have taken careful steps. 
Pet at Your Rental Property can cause 
Liability if the Pet bites a neighbor or the other tenant

Noise Disturbance or Commotion causing trouble for others and you

Pet Allergies to other Tenants

Damages To Your Property including chewed doors scratched floors and Stained Carpet from Pet urine or feces. 
Do these above sound bad?? Don't scratch your head as these can be managed. 
When Are Landlords Liable For Tenant`s Pets?
Pet liability can fall on the landlord's head if your tenant`s pet bites or injures someone, though only in specific cases, but not limited to 
When you already know the pet is dangerous and still allow the tenant to rent with a dangerous pet. 

Not making reasonable efforts to get the tenant rid of the dangerous pet or move out the tenant when you legally hold the power to do so. 

You know the pet already has an incident of biting someone.  

Keeping or Harboring the tenant`s pet and the pet causes injury to someone
The laws regarding pet liability can be different in your state. A rental owner must verify the conditions accordingly. Though in general, it is the tenant who is mostly liable if his or her pet injures someone until its first time occurrence in the landlord's notice.
How To Allow Tenants with Pets Without Stress? 
The fear of your rental being damaged by pets is completely natural. You may have heard many horror stories from Landlords of how badly the pet has damaged their place and even the security deposit wasn't enough to make repairs. I too feel when you allow pets, you can't really avoid the damages completely but surely can mitigate the risk by having a solid pet policy in place. 
Put the horror stories aside. When you have a responsible pet owner tenant at your property, the chance of pet damages at your property becomes very less. 
According to a study by FIREPAW on landlords and pet damages, 85% of those landlords who permitted pets only had a difference of $40 in damages when rented by a tenant without a pet and with a pet. And the worst damage was reported to be under $430. Seems not that bad as these can be easily managed with the pet deposit. 
Note: You can only stay stress-free with a responsible pet owner and when a strong pet policy is in place. Else, where a non responsible pet owner is concerned, the pet damage can fly out of the window, making a big hole in your pocket.  
Also Read: What to do if the Security Deposit is not enough to Cover Damages?
Preparing To Have a Pet-Friendly Rental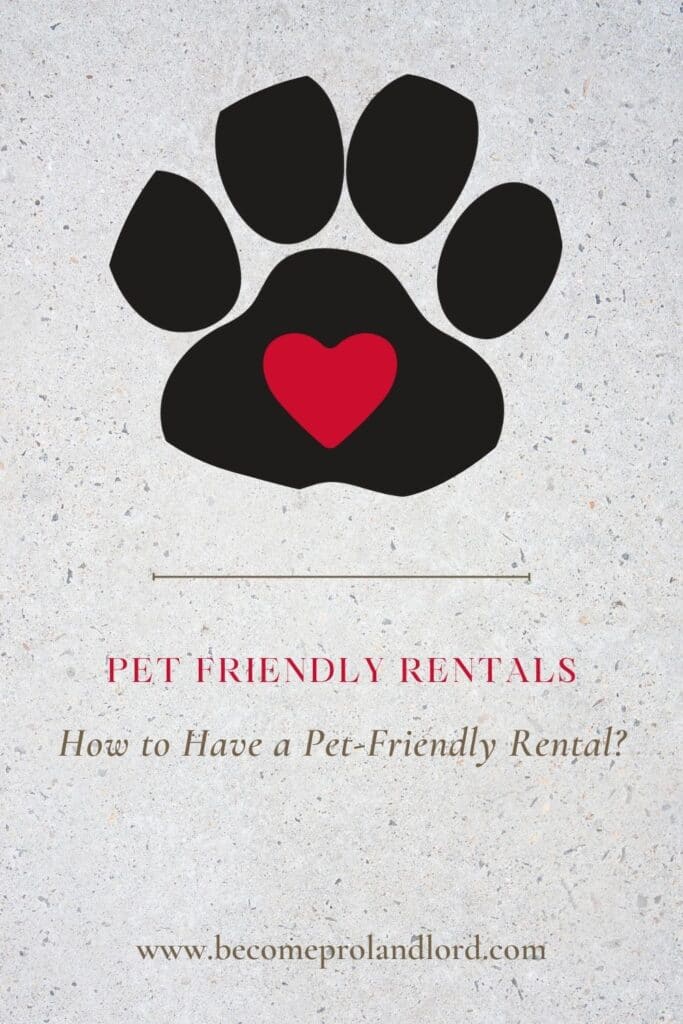 1. Setting Up a Pet Policy 
A strong pet policy allows landlords to avoid the risks of renting to tenants with pets. With a pet policy, you ensure only tenants with a certain breed of pets can rent from you. By certain breed means only those breeds of pets which do not come under dangerous or offensive pet categories. Dangerous pets should be barred at your property. Though there remains perplexity about dangerous pets and breeds. 
You should only allow common domesticated pets like a few certain breeds of dogs, cats, rabbits, guinea pigs, birds, etc.  Never allow the animals that have an affinity towards being dangerous. These can include Rottweilers, Pitbulls, and all other breeds that are blacklisted by your state or most insurance providers. 
In a Nutshell, when a tenant with a pet wants to rent from you, make a pet policy that includes 
Which type of Pet

What size of Pet 

Weight of Pet

How many pets can stay at your property 
2. Liability Insurance
Making it mandatory for tenants with pets to have a pet liability cover in their renters insurance is of utmost importance. For a tenant, it covers medical and legal expenses caused due to liability by their pet up to the coverage limit. The liability cover further protects landlords to avoid any unwanted troubles in case the pet injures or damages someone's property. 
Imagine you have multiple tenants in your apartment building. And the pet of one of your tenants injures the other tenant or damages their property. The injured tenant will require compensation. Either you or your tenant with a pet has to take the responsibility. And in such cases when a tenant with a pet has a pet liability cover. The chances for a landlord to suffer a liability in this situation becomes thin.  
To make it mandatory to have liability insurance,  include this condition in the pet agreement.
3. Pet Screening
As you would screen a tenant, screening a pet is also important before you allow them on your property. Pet screening provides you a reference point about how well behaved the pet is and whether the owner is actually responsible or not?
Asking some basic questions from the tenant about their pet can give you some much-needed basic info about the pet. It can assist you in your decision of allowing this pet or not on your property. You can enclose a pet questionnaire along with a rental application.
Questions you can include
→How many pets will stay with the tenant on the Property? (If you allow more than one)
→What type of Pet the tenant has?
→How long has the tenant owned this pet?
→Is the Pet home trained or professionally trained?
→Can Tenant Provide the Reference letter from the Vet whether the pet is healthy and has timely vaccinations?
→Does the Tenant have any Pet Reference from the Previous Landlord?
→How much time does the pet have to spend alone at home daily?
→Will there be anyone who can take care of the pet in case of emergency with the Tenant?
→Will the Tenant be Okay to pay a pet deposit if asked? 
Meeting the Pet in Person
After running all the references on the pet, require the tenant to let you meet the pet in person before you actually allow them on your property. You need to make sure the pet is well behaved and there are no red flags associated with the pet`s behavior. 
Once you meet the pet, see how it reacts to the basic commands like 'sit' and 'stay'. Walk the pet with the tenant around your property and analyze how it behaves around people and seeing animals around it. If you sense any signs of growling, aggressiveness, or raised hair. You should stay away from allowing that pet on your property. 
Alternatively, you can save all your efforts of pet screening by letting it in the hands of professionals. PetScreening.com is among such good companies that help screen pets at no extra cost to landlords and property managers.
4. Pet Charges
Landlords can collect certain types of Pet charges from tenants with pets. When pets and tenants coexist, there is always a probability of some kind of damage to your property. Pet charges cover landlords from such kinds of pet damages.  Pet charges can include
Similar to a security deposit, a pet deposit is a one-time refundable deposit that you collect from a tenant for instances of any damage by their pets. Though, there is an excursion, and not every state allows landlords to collect a pet deposit on top of a security deposit. 
But if your state allows, you can choose to decide how much pet deposit you would take from a tenant. Landlords calculate it based on the type of pets, size of pets, and the number of pets. A big size dog has more chances of doing damage compared to a small chihuahua.   Generally, a pet deposit ranges from $100-$600.  
Note: Always check your state laws before collecting any type of pet deposit from the tenant. Also, a pet deposit is solely to compensate for serious pet damages. So, if you are collecting one, be sure of keeping the pet deposit separate from the security deposit. 
Pet Fees are like the pet deposit that you charge one time from a tenant to allow their pet at your property. But unlike the pet deposit which is refundable, pet fees are non-refundable. Whether or not the pet has done damages, you charged your tenant a one-time pet fee. It is more like an admission fee for the pet.
It may or may not be allowed in your state to collect pet fees from the tenant. Though it can be possible that you can even collect pet fees on top of a pet deposit. But, a landlord must take only reasonable money in lieu of covering damages. Charging more can create a financial roadblock for the tenant and make him look for other options. 
5. Establishing Pet Rules
With strict pet rules in place, you make sure the tenant takes full responsibility for the pet. The pet rules inform the tenant about what expectations you have and the responsibilities when the tenant is staying with their pet at your property.  
All the pet rules should be included in a separate pet agreement attached with the rental agreement or lease. Require all your tenants to sign the pet agreement including a non-pet owner just in case they ever bring in a pet. 
Some of the Common Pet Rules at Rentals Include:
Only Pets approved by the Landlord are allowed at the property.

Tenant-owned pets only. No other Pets or Guest`s Pets are allowed. 

Pet is required to have a proper identification collar or tags.

Pet should have a license if required by the state laws.  

The Pet has to be current on their vaccination.

The Tenant has to have control over their Pet. No noise disturbance to others.

Not to leave the pet unattended or without supervision outdoors.

Do not leave the pet alone at the property for an unreasonable period of time. 

Keeping the pet in a contained and appropriate area inside the property. 

Cleaning up after the pet both inside, in common areas, or any other adjoining areas of the property. 
"A Strong Lease is the Foundation of Successful Landlording. Protect you and your business with state-specific and bulletproof leases brought you by Rocket Lawyer."  
Can You Legally Say No To Pets?
A Landlord or a property manager can legally deny pets and enforce a no pet policy at rentals but with an excursion. The fair housing rules limit landlord's ability to deny reasonable requests from qualified handicap tenants to have service animals and emotional support animals at their property.  
Note that, the service animals are specially trained to assist their owners but they don't carry any specific certification certifying them as service animals. So, you can't really verify the animal's status. 
Similar is the case with Emotional support animals. Even they aren't necessarily specially trained like service dogs. The only thing you can do is to have the tenant provide you with a reference letter. A letter from their doctor or the therapist about their disability or mental health condition that benefits from having a service animal or an ESA.   
Also, you can ask only limited questions to the owner of a service animal which includes
Is the animal required to assist you for a disability?

What task the animal has been trained to perform?
Denying Service Animals and ESA`s
Though, you can't deny service animals and ESA under the Federal Fair Housing Laws. And if you do, you can be held for discrimination. Still, in some circumstances, you can deny a tenant with these animals (Check ADA Guidelines)
If you feel the request by the tenant is unreasonable and it will cause a financial burden to you to provide a reasonable accommodation with the animal.

When you feel you have a smaller space compared to the size of an animal

If the service animal isn't under the control of the owner and has shown aggressive behavior.
Be mindful that the Americans with Disabilities Act doesn`t let landlords restrict service animals based on size, weight, and breed. Be it a Pitbull for that matter. 
What If Tenant Has a Pet Without Your Permission?
A tenant owning a pet on a rental property without the landlord's permission or when a pet is not allowed is a violation of the lease. In such a situation, you can send a lease violation notice and request the tenant to correct the violations. If not corrected, you can evict the tenant. 
Or if the tenant requests you to allow pets after receiving the violation notice, and you choose to agree. Then you can certainly allow pets at your rental by making modifications to the existing lease. For this, you and your tenant are required to sign a separate pet agreement as we have discussed earlier. Ensure you have everything in writing with the tenant. 
Can you Change Your Pet Policy in Between?
When you have signed a pet agreement with the tenant, you entered into a legally binding document. So it doesn't matter if you feel bad about allowing pets on your property. Unless the term of the existing agreement expires, you can`t change the terms that you have agreed upon.  
Though you can include a clause that you reserve the right to amend the pet policy by giving a reasonable time and notice to the tenant for the same, say 30 days. Chances are very slim and even I feel doing this to a pet lover isn't human. Better you consult with a professional attorney for this. 
The Bottom Line
Having a pet-friendly rental is in the best interest of your business. Carefully allowing pets at your rental mitigates the likely chance of damages and injuries related to pets.
Do you allow pets at your rental property or are you considering allowing them? What made you read this article? Do write your feedback in the comment section below. And if you like the information, then you may want to subscribe to our weekly newsletter. Alternatively, you can also be a part of our private Facebook community of Become Pro Landlord.