Renting in low income neighborhood | Know both sides of coin
Renting in Low income neighborhood can be a hit or a miss for landlords. It is a whole new level of experience for the Landlords who want to rent in low income neighborhoods. It can be somewhat difficult for inexperienced landlords but definitely poses a sizable opportunity for desperate landlords. Evaluating both sides of this opportunity hence becomes important. And you should then decide to rent in low income neighborhood or not only after complete due diligence.
As a Landlord, you may be hungry to seize a good opportunity in your way. Renting in a low income neighborhood seems to be one such good opportunity to you. There are always two sides of things that must be accounted first. You can make good profits with low income neighborhoods. There are sure advantages of having a rental in such neighborhoods but it has its own risks that must be evaluated first hand.   
First Side of Coin- The Upside
· Less Investment
The Low income neighborhood brings a great opportunity for landlords who have limited capital in their hand. The houses in such neighborhood are relatively inexpensive and can churn out good profits. A typical house in these neighborhoods estimates roughly from $30,000 to $50,000. Your best bet to make your business more profitable is by finding a jewel in the rough. The low income neighborhood gives you enormous opportunities to find such jewels.
There are a lot of good deals available in these neighborhoods. You can easily find a good house among various options in a bank foreclosure auction. Such auctions lets you buy a house at a discounted price much below than the actual market price. You can buy a property with very little money that is not at all possible with A-class neighborhoods. The Return on Investment ratio (ROI) is also better in low income neighborhood as compared to a high income neighborhood.
· Cash Flow
A $50,000 home in a low income neighborhood can be rented easily at $800. Now, think of renting a house which you have paid $100,000. You will not get more than $1000 in rent. Which investment is getting you a better cash flow? Where are you getting a good bang for your buck?  The Low income neighborhood always outperforms the A class neighborhoods in terms of cash flow.
The advantage of having a property in low class neighborhood is that you can make larger down payments. Larger down payments means reduced monthly mortgage payments. The less you need to pay in mortgages, the more you can make profits on your investments. However, the profits on your investment also depend upon various factors other than just having a good cash flow which you will learn a little later in this article.
· Less vacancy
Landlords hate vacancies. Vacancies mean the landlord has to do a lot of work again. He has to again market the property, run a background check on the prospective tenant and lot of other tasks. No matter how good as a landlord you are. But if your tenants find a good deal and a better place, they will switch. But renting in low income neighborhoods comes with an advantage that the tenants likely to shift less.
The tenants in low income neighborhood mostly live from pay checks to pay check. And shifting from one property to another involves additional costs. They hardly feel good about bearing that cost and tend to stay at some property until their financials got in right place. And, making your financial position sound can take few years.
· Recession proof
The Low income neighborhood hardly get affected from recession. The tenants who are living in such neighborhoods are basically service man like plumbers, electricians and carpenters. These professions are likely to hit very less at times of recession. You will always be in need of these kinds of services whether your economy is slow or fast. So hardly is there an effect on their jobs. So, having a rental property in low income neighborhood can be a good hedge against recession.
But on the other hand, the high income neighborhoods see a lot of vacancies during the times of recession. The Tenants in high income neighborhoods are generally working class professionals. They are the most hit during the times of recession. In such times, their jobs are sacrificed and they have to vacate the property. Recession hits high income neighborhoods pretty bad.
· Bigger Portfolio
You have $100,000 in hand and you want to build your portfolio of rental properties. With such amount what do you think how much properties in high income areas can you add up in portfolio? Suppose you are going to purchase in A-class neighborhood which roughly costs around $300,000.  You are financing from bank and required to make 20% down. So you pay $60,000 as a down payment. Now what do you think how much more of such properties you can buy? You are a smart investor, so you manage to buy more.
But, what if the property costs only $50,000 and can give much better returns? Now, how many of such properties you can own in your portfolio? With 20% down, you can acquire roughly 10 properties in such neighborhoods. What do you think is the possibility with 10 rentals in low income areas or just having 1 in high income areas? Think yourself. But the main point here is that you can increase your portfolio much better with Low cost neighborhoods.
Second Side of Coin- The Downside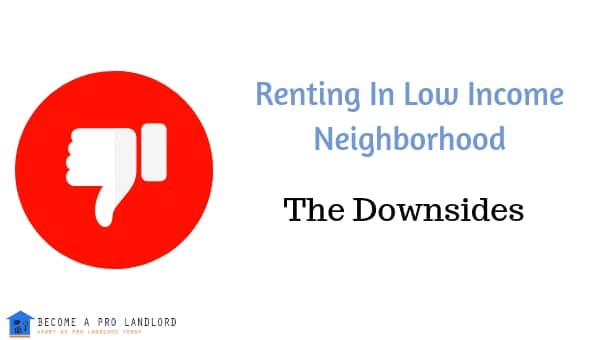 · Dealing with Tenants
It can be a rough experience for landlords dealing with the tenants of low income neighborhood. The tenants who live in such places are generally service persons. There can be huge barriers of understanding between you and such individuals. You don't share a common lifestyle and then agreeing on a certain thing can be difficult with them. All these things can quickly create difficulties with them during their stay which can cost you a lot of your time and energy.
Such stories can be a deal breaker for most landlords. As a landlord, you also not want to deal with these kinds of tenants ever. Moreover, the tenants living in these neighborhoods can be disrespectful with landlords and the fellow residents. It can be another challenge for a landlord while renting in low income neighborhoods.
· Maintenance costs
The maintenance costs of homes in these neighborhoods tend to stay on higher side. There is a belief that the tenants who rent in low income neighborhood are careless and destructive. There are various concerning stories around B neighborhood tenants. The tenants who live here hardly care about your business and your property.
You can easily expect broken floors, ruined carpets, cracked toilets, dirt and filth in your house when they vacate the property.  This means you have to spend a fortune on repairs. However, if you take a little precaution and screen tenants before renting; this menace can be easily avoided. (Read: How to do background check on Tenants?)
· Default with Payments
Most of the tenants who reside in low income neighborhood have a weak financial statement. They struggle to even afford a basic lifestyle for them. Their life revolves around pay checks. They earn money and just able to fulfill their basic expenses. Savings and making investments are like an alien world to them.
Affording rent is a major task for them. And if they ever run in any financial trouble, they hardly have any backup plan. And, in those cases, they can easily start defaulting on the payments. You have to then bear loses and huge eviction costs in removing them for your property. (Read: How landlord insurance can protect you from losses?)
· High Crime Rates
The crime rates are generally high in low income neighborhood. The people living in these areas hardly care about their neighbors. You can see public urination, vandalism and littering on the streets of such neighborhood. Furthermore, crimes like drug deals, snatching and other criminal activities are common in these localities. A high crime rate means a direct threat to your investment and landlords should consider safety measure before renting here.
However, not all the low income neighborhoods are same. You can also find neighborhoods which may be B-class but has rarely such problems. These neighborhoods mainly are found where there are schools, hospitals and some grocery stores nearby. Having these institutions indicates development is ongoing in these neighborhoods and renting here can be a good opportunity for you.
· Neighboring Issues
The major downside of owning a rental property in low income neighborhood is the neighbors. You can have good tenant to stay on your property. But what can you do about the neighbors who are involved in criminal activities. Such neighbors are a threat to your property and your tenants. It can become difficult for tenants to live in such situations.
Your tenants doesn`t feel safe anymore living in your rental property and wants to leave. Having such issues in low income neighborhood is common and there is nothing much you can do about it. In such cases, you can have hard time finding right tenants for your properties. And it may cause you to permanently lose your landlord business on that rental property.
So should I rent in Low Income Neighborhood?
Having a rental property in low income neighborhood is a worthy investment. The landlords who know the true art of managing the rental business can earn good profits from these properties. It can be also be good opportunity for investors who wish to expand their portfolio with different kinds of investment properties.
Having rentals in low income neighborhoods can be a good hedge for weak times when your A-class properties are under performing. Furthermore, you can take advantage of appreciation rates in these areas as these areas are bound to improve overtime.
However, there are risks too in setting up a landlord business in these neighborhoods. If you can manage the risks, you surely can cash this opportunity. Also, a low income neighborhood not necessarily means a bad neighborhood.
It is upon you how you can find a good low income neighborhood that can favor your landlord business. In this sense, the advantages clearly outshine the downsides and hence you can consider renting in low income neighborhood.