Do You need Landlord Insurance- Insurance Covers to take?
Being a landlord, you are required to have landlord insurance. An insurance policy that protects your rental business from all kinds of harms. Anything can go wrong with a rental business. Your property can get damaged. A lawsuit can be filed against you. You can occur to unavoidable hassles by your tenants. And, if you are not a proactive landlord, then you can get ripped off easily from head to toe.
Landlord insurance is a must for rental business owners. You are running a rental business. If something ever goes wrong with your tenants or your property; either you or your business will be held responsible. And, not having the right insurance can break your world apart.
What is the Landlord Insurance?
Landlord Insurance is a special kind of home insurance that covers you from property damages and provides aid in financial and legal troubles. With the right cover, a landlord policy can save you to a good extent.
---
What Landlord Insurance Covers do You Need?
You must select each cover of the landlord's insurance carefully. Failing to opt for necessary covers can cause you to bear unwanted liabilities. So, it becomes important for you to understand the needs of your business. And, then get a personalized landlord insurance policy for your business. Below are some of the most important policy covers, a landlord must opt for.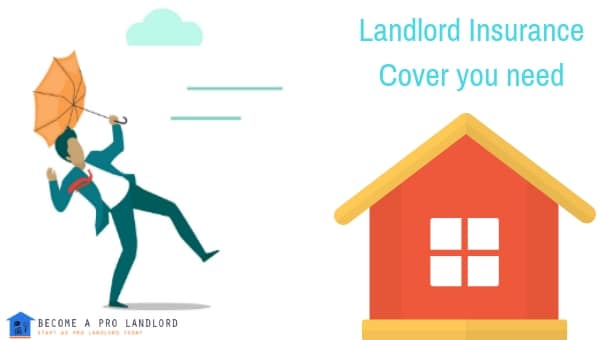 1. Damage to property due to Perils
This cover insures you from the damages on your property due to perils like fire, storm, lightning, windstorm, and flood. Your property is protected in the case of damage. And, you can claim the value of your building completely. However, the value of the claim on building depends upon claim value in your insurance.
2. Malicious Damage to the Property
Having a malicious damage cover in your landlord insurance is a must. You are covered against damages from malicious acts on your property by disgruntled tenants. Damages to your property that are done willingly to harm your business come under malicious damages. You can claim the cost of repairs and painting by having a malicious cover in your policy.
3. Damage due to civil commotion
It is very important for you to protect your business and the property from the damages due to civil commotion. A strike, riot, lockout, or some similar violent situations can cause harm to your property and your business. In case of harm from these situations, you can claim for damages on your property and interruption in operating business.
4. Content Cover
The content cover protects your business against the loss of content. It is an important cover to consider if you provide furnished dwellings to your tenants. The contents in furnished dwellings can get damaged or lost due to theft, burglary, or from perils like fire, storm, or flood. Having the content cover, you can stay carefree about the damages to your content. It can be due to the act of perils and by the tenants or their guests.
5. Income Protection
An income protection plan ensures the landlord to get cover on lost rental income if the property becomes inhabitable temporarily. Damage due to perils can occur which makes your property unavailable for tenants. Your property now needs repair and you can`t rent it to tenants. It took you 6 months to keep it operational again. Having income protection protects you in such cases from losing rent income.
6. Liability Cover
A liability cover in the landlord insurance policy gives you an upper hand on liabilities that can occur in your business. You have tenants on your property. Any act of negligence in providing a secure dwelling to your tenants can make you liable to them. You can occur to lawsuits, penalties, and compensation claims. The Liability cover comes handy in such cases and you remain protected from bearing big liabilities.
Read: How to Increase Your Liability Cover with an Umbrella Policy?
7. Tenant Injury
The Landlord policy covers the business owners from the compensation costs to the tenants in case of injury. This cover makes sense when your tenant gets an injury or a permanent disability in an unfortunate event. Lack of responsibility and negligence can cause such events. Your tenant can demand compensation for the injury, loss of their contents, and loss of their income during such cases.
8. Accidental Damage Cover
This cover protects the landlord from the accidental damage to the property. There can be lots of instances where the contents in your buildings get damaged accidentally. You may accidentally damage your walls or tenant unintentionally spilling wine on the carpet. These instances incur costs to repair such damages. And having an accidental cover in a landlord insurance policy can protect you in such events.
9. Damage by Pets
If you are a landlord who allows pets in the property, then you must consider opting for damage cover by pets. Having pets at your property, you can expect soiled carpets, scratched curtains, and other possible pet damages. Not a lot of insurance companies provide cover for pet damages. But you can always assess between different companies and choose the policy which suits you.
Read: How to get rid of Pet Odors from your Rental Property?
10. Legal Expense Cover
Despite having a good landlord-tenant relationship, there can be possibilities where you need to evict a tenant. In such cases, you need to consult a lawyer and take legal proceedings in court. All of these require spending hefty amounts of money. A legal expense cover in your landlord insurance can easily take care of all such legal expenses.
11. Arrears in Rent Cover
Even after performing credit checks and running history checks on your tenants, you can still occur to tenant arrears. Having arrears, you are at risk of losing the rent payment and has to bear an eviction cost.  You can cover the eviction cost by using the legal expense cover. But having arrears in rent cover additionally saves you from rent losses. (Read: What to do when a tenant is declaring Bankruptcy?)
12. Damage to Property used to service tenants
You provide furnished dwelling to your tenants which additionally consists of appliances used to provide services to your tenants. These can include a lawnmower or a vacuum cleaner. If ever anything goes wrong with such things due to breakdown or theft. You can cover such losses with this cover.
13. Appliance Breakdown Cover
An appliance breakdown can easily lead to unhappy tenants and a frustrated landlord. After all, the breakdown of the appliance can become a trouble for the landlord and repairs are generally on the expensive side. The appliance breakdown cover protects you from bearing the breakdown or even from the costs of replacing them.
14. Home Emergency Cover
A home emergency cover helps in improving customer service for tenants. There can be instances where a water pipe bursts, the heat pump fails, or the sewer pipeline got failed. All these events can cause a disruption in the peaceful stay of your tenants. The home emergency cover protects the landlord from hassles and costs of plumbing, electric, heating, and boiler emergencies.  
15. Inflation Guard Coverage
The Inflation guard cover protects the landlord from rising inflation costs. This cover automatically raises the value of your Landlord insurance to a certain percentage to protect you against increasing rebuilding costs. Inflation costs are rising every year. Not having an inflation guard can leave you stranded if you ever need to build your house again for any reason.
---
The Bottom Line
The Landlord insurance policy is different from a simple homeowner`s insurance policy. You can get this policy for a non-owner occupied property which is rented by tenants. Having the right insurance policy is in the best interest of landlord. You should leave no room for error in protecting your valuable asset from unknown risks.
Read: Why you should switch from a Homeowner`s Insurance to a Landlord Insurance for a Rental Property?