The‌ ‌Insider‌ ‌Landlord's‌ ‌Guide‌ ‌To‌ ‌Late‌ ‌Rent‌ ‌Payments‌
Not receiving the rent payments on time is the biggest distress for a landlord. Especially for someone who has always been a responsible landlord. As a landlord, you have certain obligations to maintain the property and it takes money to do that. And not getting paid on time, its a real stress. Even then, sometimes willingly or unwillingly, we allow our tenants to make late rent payments.
As humans, we also get somewhat attached to tenants, empathize with their problems. After all, a little delay doesn`t harm much if at all we are receiving the rent payments,  be it with some delay.  I have been such a landlord in the past and learned my lesson the hard way.
Never allow your tenants to make late rent payments. Because if you do, it can simply become a habit and your tenant will always expect leniency from you. Trust me, this mistake can cause you much bigger problems in the future.  With this article, I want you to understand and be so informed that you will never have to receive late rent payments again.
Let's dive into the article and get to all those insider tips on how to avoid and deal with late rent payments.
How To Avoid Late Rent Payments From Tenants?
You can certainly avoid late rent payments from your tenants by preparing ahead of time. Some minor tweaks to your already established system and becoming reasonable with the tenant, you can be able to collect rent payments on time. 
1. Understand the Basics of Tenant Screening
You can avoid late rent payments by eliminating the bad tenants in the first step itself. This can easily be done by having solid rental criteria and doing a proper background check on the prospective tenant. 
By having solid rental criteria, you ensure no such prospect can apply for your rental application who is not the right fit for your rental property. A right fit means that a tenant is able to satisfy the financial and other such obligations when renting from you. 
Read: How to Prepare a Solid Rental Criteria?
Furthermore, after receiving the rental application, you must do a thorough background check. It allows you to verify the rental history of the tenant. You can check whether they paid on time or ever had any instances of late rent payments.  And if you find anything concerning, you can always reject their application leaving you with less ground for errors.
2. Learn to Counter Excuses 
You will need to learn the art of staying both firm and reasonable when your tenant requests you for accepting late rent payments. Don't feel embarrassed and learn to say no. After all, business and charity don't blend well together. 
Dealing with tenants, they can have a number of excuses on why they aren't able to make rent payments on time. You can feel sorry and bad for your tenants. But, try to understand here that in the end, it will be you who will have the most trouble collecting rent arrears from those tenants. 
The tenant is facing some health issues and got stuck with high medical bills. 

He is facing some hardship related to work and needs time to pay the rent. 

The tenant has mailed it already and the post office might have lost it. 

Some problems occurred in the family and he has to urgently send some money to them. 
All the above excuses are very common. And for an unprepared landlord, it becomes very difficult to say no to a tenant in the heat of such emotional excuses. What's the solution then? Keep reading, you will learn shortly in this article. 
It can actually be a genuine problem with a tenant and being a landlord you must empathize with a good tenant. But you must not do it at the cost of your business and should have a counter plan for these situations.
3. Stick to the Lease
The lease is the first and the formal agreement you have with your tenant. Both you and your tenant have entered into a legal agreement by the means of this lease whose terms must be abided at every time without fail.  However, some landlords somewhat become flexible with the terms and conditions of the lease. Doing so, you are making it clear for your tenant that you are a flexible landlord and can act so in times of need. Never be such a landlord and ensure what is written in the lease must be followed every time. 
Your lease must clearly specify on what date the rent becomes due and what is the outcome of not making rent payments on time.  And, in this regard, consider adding these addendums to the lease.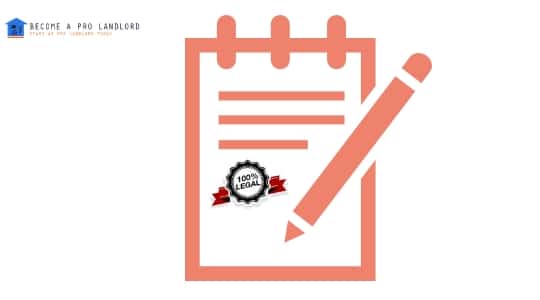 You can collect late fees from your tenant if he doesn't pay the rent on the due date or after the grace period gets over. It is completely legal and the only thing needed here is you specify the same in your lease. Clearly mention how much late fees will incur if the tenant delays the rent payment after a certain date. 
The Lease Addendum goes as:

For each rent received by a lessor later than 5th day of the month regardless of the date, the lessee has mailed the rent. The lessee agrees to pay late fees per payment. The Late fees will be $50 plus $5 per day after that until the rent for that month is paid in full. The Lessor in good faith agrees a 5 day grace period for unforeseen conditions. 
Also Read: Must have Addendums in Your Lease
Report Late Rent To Credit Agencies
You must consider adding a credit reporting disclosure in your lease. It allows you to report the late rent payments from your tenants to credit agencies. And getting a blemish on the credit report is not good for anyone. 
However, you must take discretion and understand the tenant`s real situation before actually reporting them. Also, you can face civil penalties and fines if you ever reported the wrong information. Furthermore, if you are reporting any negative, you are required to convey the same to your tenant within 30 days.   
The Disclosure goes as:

The Lessor at his sole discretion can report the credit information to the credit bureaus when the rent received is later than the due date.
Do You Know? 
Not Every lease you get is legally enforceable unless it is state-specific. Save yourself from those tough times and get a legally enforceable, state-specific lease from Rocket Lawyer.
Get Your Lease
4. Online Rent Collection
If you are not already collecting rent payment online, then you are missing the opportunity of getting paid on time every time. There are many online rent collection services available today that send automatic payment reminders and even collect late fees from the tenants. You don't need to call your tenant or notify them every time to make the rent payments. 
Using Online Rent Collection services is the most convenient way of collecting rent. These services present your tenant with various payment options like ACH transfer, credit cards, and debits cards. And, even has various other useful features for landlords. With this, you need not wait for the post office mail to collect the rent. Your tenants can no longer give excuses for the lost mail. 
Read: Which Online Rent Collection Service Should You Use?  
---
How To Deal With Tenants Making Late Rent Payments?
"An informed and prepared Landlord can save himself from a lot of troubles and efforts while running his rental business."
There still remains a possibility that your tenant makes the late rent payment even though you have taken all measures to avoid it in the first place. This section of the article will help you understand how to deal with such tenants who are late with their rent payments. We will go through some do's and don'ts when a tenant is delaying the rent payment.
Do`s When Tenant Is Late on Rent Payments
1. Send a Late Rent Payment Letter
Late Payment Letter is a kind of an informal notice you send your tenant to remind that the rent is past due. In this letter, you mention all the past dues including the late rent fees requesting the tenant to immediately make the payment. 
Though, the late rent payment letter serves no legal purpose but keeping a record of this letter can come handy. It shows the good intention of the landlord that he tried best to recover rent before actually filing an eviction. 
Download Late Rent Payment (Template 1)
Download Late Rent Payment (Template 2)
Download Late Rent Payment (Template 3)
2. Communicate with the Tenant
It is important that you communicate with the tenant after sending the late rent letter. After all, you are trying to alleviate the issue and not heightening it. Your tenant may have a genuine reason for getting late with the rent payment. 
You must hear them and not simply behind the owed money. Be empathetic with your tenants always. If you feel they are going through hardship, do make some arrangements that are favorable for both parties. In the process, do ask these questions from your tenant
When does the tenant expect to make the payment?

What is the exact amount the tenant will be paying to you?

By what method, the tenant will make the payment?

Is the tenant expecting money from someone or What is the source of income the tenant will use to make the payment?
Asking these questions, you can sense beforehand what the tenant is actually up to. And will he be able to make the payments even after making the arrangements? If yes, you shall wait until that time. But if you feel otherwise, align your chores and prepare yourself to start the process of eviction. 
Read: How to Recover Rent Arrears From The Tenant  Before Actually Starting Eviction?
3. Late Rent Payment Agreement 
You might have made an arrangement with your tenant for late rent payments. But you must have this arrangement in writing. A Late Rent Payment Agreement exactly does that and formalize the agreement between you and your tenant. 
And, if the tenant backs out and does not comply with the agreement, you simply start the eviction process.  
Create a Late Rent Payment Agreement
---
Don'ts When Tenant Is Late on Rent Payments
The Government has incorporated certain guidelines in relation to the landlord and tenant laws. You must abide by them and should not do anything which isn't legal. It is a completely natural reflex to go off guard and man up to protect your income and investment. 
If you are dealing with a tenant who is late on rent payments in an unlawful way. It will only worsen the situation for you. Strictly, you should abide by the law and avoid these practices.  
Change the Locks of the Apartment in Between

Turning off the Utilities

Removing the Tenant Belongings From Your Property
All the above practices are a classic example of self-help eviction and are completely illegal. Your tenant has rights. Self-help evictions are illegal in most states. Not only you will lose your money but can even face legal liabilities. 
As per the law, you can sue your tenant for not paying the rent. But unless the judgment comes, you are responsible for providing a warranty of habitability to your tenants which includes utilities but not limited to water, heat, and electricity.
---
The Bottom Line
Not getting paid on time from your tenant can land you in the clouds of worries. But always remember, these are just clouds that will pass away through the sky. The only thing needed to avoid and to deal with late rent payments is to be prepared before time and act consistently.