Roofstock Review to Buy an Investment Property
You wish to invest in real estate and make money from your investment. Rental properties are a great way to do it. You might know this as well. But even though you know, have you invested in one yourself? Buying rentals is a lot of work from finding an excellent property to running calculations, making rehab, and finally putting tenants. But what if someone does all these tasks for you? Would you invest in a Rental Property then? If yes, Roofstock is one company that has your back and we are reviewing Roofstock for you. 
In this article, we are going to find out whether Roofstock is up to any good. Should you buy turnkey rental properties from Roofstock? Or is it just another money-making company selling the dreams of owning an income-producing real estate and becoming financially free one day?  
Roofstock Guaranteed Rent on Vacant Properties
Roofstock 30-Day Money Back Guarantee
*Roofstock, unfortunately no longer offers the 30-day Money Back or Lease/Renter guarantees
Who Should Read My Roofstock Review?
You want to buy an investment property but have no experience of buying one (Roofstock can save you from making a bad investment)
Investing in real estate is your cup of tea but you want to save yourself from all the efforts of buying and managing your property. (Roofstock offers Single Family Properties with vetted property managers already in place)
You live in an area where the prices of property have skyrocketed and now you are looking for out of state investment opportunities. (Roofstock helps you buy out of state properties without the need for you to actually visit the place)
Mind you, my review on Roofstock is primarily tilted towards the buying side and not on the selling side of the properties. With Roofstock, you can both buy and sell your properties. And yes, I may be reviewing only the buying side. But let me also tell you how Roofstock certifies each and every property when someone lists it on their marketplace. 
All the property inspections are prior done by

an experienced national inspection firm before listing on the market place. 

Roofstock analyses the rental market and property value to ensure a right priced deal. 

Estimates the cost of all major repairs required on the property.

Perform a complete title search and ensure there is no encumbrances and liens attached to the property

Review the tenant situation at the property. (Hidden Dangers of Buying an Already Rented Place) 

Reporting Property Disclosures (For any eventual dangers to the property from natural disaster and crime in the locality)
Do You know how much they charge for doing all this work for you? You pay only 0.5% of Property Purchase Value as fees for buying from Roofstock. Spare the Realtor who charges 2.5% from the buyer (No offence to them).
Roofstock in a Nutshell
Roofstock is an online marketplace for investors who are interested in buying and selling rental properties. On their marketplace, you will find turnkey rental properties. The Rent ready properties which are vetted, certified, and completely inspected by the team of professionals before making it to the marketplace. 
Roofstock in a Nutshell
Type of Properties
Single Family Rentals, Duplex, Triplex, Fourplex
Operational Areas
Alabama
Arizona
Arkansas

California
Delaware
Florida
Georgia
Illinois
Indiana

Kansas
Kentucky

Michigan
Minnesota
Mississippi
Missouri

Nevada
New Jersey
North Carolina


Ohio
Oklahoma
Pennsylvania
South Carolina

Tennessee
Texas
Wisconsin

Price Range
$85,000-$200,000
The Ease of Doing Business with Roofstock
> Lots of Filter To Narrow Down Property
> Detailed Property Inspection Report
> Property Complete Inspection Report
> Lender Recommendation
> Property Management in Place
How Easy It Is to Find a Property with Roofstock?
Roofstock has made it pretty simple for any investor to find the right investment property. When you visit the marketplace, Roofstock first helps you narrow down a property based on your preferences with the help of filters. You can narrow down to a property based on choosing from these filters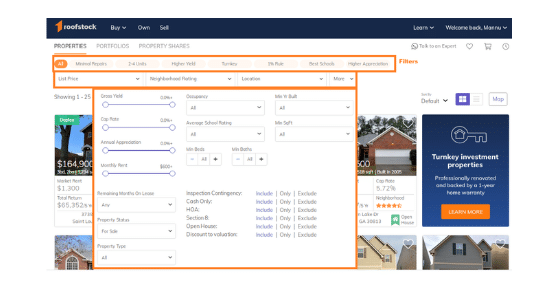 Once you are done with setting the filters, select the property you feel as right. After, selecting the property, you will reach to the property`s listing page. Simply, first take a curb view of the property to get the feel of the locality and neighborhood of the property. 
After getting the curb view of the selected property, you can check the complete details of the property including the summary, financials, property analysis and inspection report.
You can perform your due diligence by looking all the details provided by Roofstock on the property listing page. If you want, you can additionally download each report separately to dig into the complete details. 
Even, if you initially don`t want to go into the specifics, Roofstock simply informs you about the possible needed repairs on the listing page itself. Simply, check the highlights and move onto next property if you don`t find it as the right deal. Roofstock really help you save a lot of your time this way. Also, on the listing page itself, Roofstock gives you details on the tenant lease situation and whether the tenant is current with its lease or not. 
The Roofstock Support
Mr. Roofstock, is it just the ease of access of your marketplace or do you really got the back of the investor? 
Well, Roofstock has got an excellent support system that guides you on every step while purchasing an investment property from them. I do mentioned that the buying process is a breeze and you literally can buy from the comfort of your home.
 
"Listen What this guy is saying about his buying experience From Roofstock?"
Found Your Property? Added to the Cart? 
Add the Property to the cart and, this is after which all the Roofstock magic kicks in. Until, the property doesn`t officially become yours, the Roofstock team keeps on guiding you on every step of the purchase. And, if you still need any help, you always have a transaction coordinator available for you just a call away (Better be in the official hours).
Closing on a Roofstock Property
Add a Property To the Cart
Checkout The Property
Indicate how you`re funding the property (Cash, Self Directed IRA, or Finance)
 Enter Your Ownership Details
Pay a Non Refundable Fee (0.5% of the Property Value)
 A Transaction Coordinator will contact you and you will get a confirmation Email
Sign the Purchase Agreements
Wire the Earnest Money Deposit
Send Documents to the Lender
Roofstock will Schedule the Appraisal then
Select the Home Insurance (or let Roofstock Recommend)
 Finalize the Property Manager (or Choose From Roofstock Certified Managers)
A Notary will come to get the closing documents signed.
Wire the Funds
All the Leasing and Tenant documents will then be sent to you.
The Closing time for the property usually can take 15 Days or up to 30 Days depending upon your case. If it's a cash purchase, closing only takes 15 days. But if financing is involved, it can take up to 30 days.  
All I can say with this is that Roofstock has really made the process of buying the investment property from their marketplace very simple. 
Roofstock, You're Making me High Now
I mean when was the last time you heard of the word guarantee? Who gives guarantees these days? At least, I never heard of it, especially in the real estate business. 
Roofstock is offering a Guarantee on two fronts
Rent Guarantee
Money Back Guarantee
Let me tell you how these Guarantees work actually???
With the Rent Guarantee, Roofstock is providing you a 12-month assured rent if you work with a Roofstock preferred property manager. If you have bought a rent-guaranteed property, Roofstock will provide you with 75% value of market rent after 45 days of your property getting rent ready. 
Now, the money-back guarantees. If somehow you are not satisfied with your purchase from Roofstock, you are eligible for asking a refund within 30 days of closing the property. In this case, Roofstock will re-list your property. And within 90 days, whether the property is sold or not, Roofstock will refund you the original price you paid at the closing of the property. 
With Roofstock Guarantee, you can have a complete peace of mind with your purchase. 
Roofstock Guarantee works only when you work with a Roofstock Preferred Property Manager. Also, you will get a refund after 90 days if you are not satisfied with the property. But you still is responsible for all the maintenance costs and other ownership related costs.
"Do you know, you need not be an accredited investor to invest with Roofstock?"
Note: *Roofstock, unfortunately no longer offers the 30-day Money Back or Lease/Renter guarantees
Enough of good, Some bad ones too… Why not, Roofstock?
No! No offence, Roofstock, but you have some flaws too. No, not majorly concerning. But buyers, your discretion is needed.
You can`t do Your own Due Diligence
Now, you will think that Roofstock provides you everything from title searches, to inspection reports and even the repair estimates. Then what is remaining in Due Diligence. Yes, that is true. But all this has been done by Roofstock for you. You haven`t done it yourself and neither can you do it before you actually close the purchase with Roofstock. There is no option where you can inspect the property in person. Roofstock might be having professional teams to do the work. But remember you are dealing with a company that profits from buying and selling properties. 
Though I believe, having a Roofstock Guarantee, you need not to worry about the purchase. Even, with some Roofstock exclusive properties, you can also put an inspection contingency, wherein if you feel the property is not right after the inspection report. You can get your earnest deposit back. 
If you research somewhat, the properties that are listed on the Roofstock marketplace provides about 3%-4% cap rate on a lower side and about 7%-8% cap rate on a higher side. Rarely you will find a property above 10% cap rate. And, trust me, these are not at all amazing returns (Most investors do much better). No not that bad though but decent returns. 
Certainly you can`t expect much in a competitive sellers market where there are lot of rental properties already in the area. And, when the seller has already taken out the juice, leaving no scope of improvement, making it completely rent ready. But think, whether you will be able to surpass these returns in your area considering skyrocketed prices in most US Cities.   
When you invest with Roofstock, you are inheriting tenants. And this is when things can go south. You need to be very careful when investing in an already rented property. You are inheriting tenants. Do you know how the previous landlord or PM has qualified them? Whether he has done extensive background verification or not? You can`t be sure of the quality if tenants when you buy a property from Roofstock. 
Roofstock might offer investment properties ranging from single family homes to duplex, triplex and fourplexes. But it is only the single family property that enjoys the status of Roofstock Guarantee Policy. So, if you are to buy from Roofstock, either a buy a Single Family Property or miss out all the goods of Roofstock Guarantee.
Well, if I have to tell you. It is always the Single Family Properties that interests me as an investment property. I totally recommend you to buy only a single family property instead of a multi family unit if you are just starting with Rental Property Investing. Also if you are interested to get to details on why I recommend Single Family Homes over Multi family for an investment property, do read this article.
So, Roofstock, Should my investor friends make an Investment with you?
Definitely Yes! And, let me tell you why?
You want to invest in Rental Properties and don`t want to deal with all the drama that comes before and after buying the Rental Property.
An immediate Cash-Flow
You are a Beginner in this investing game and Roofstock is actually hugging your back pretty tightly.
Investing with Roofstock is completely safe.
How Safe is it to Invest with Roofstock?
♠ For starters, Roofstock has already surpassed the $2 billion worth of transaction mark on single-family rentals that too in less than four years from the day of its inception in 2015. And, It is still going strong.
♠Secondly, you are getting a Roofstock Guarantee(Discontinued*) when you are purchasing a Single Family property from the Roofstock Marketplace. The chances of losing your money then become very thin.
♠ Even if Roofstock goes bankrupt, you still need not worry, you own the property completely in your name without any contingencies.
Evaluating Roofstock
What do you think Roofstock will score if we evaluate it based on its positives and negatives? Want to guess? Let me give you the exact score. 
Roofstock Evaluation
Factor of Evaluation
Ratings
Comments
Ease of Searching Property
5 Stars
Lots of Filters To Narrow Down the Property
Portfolio of Properties
2.5 Stars
All Types of Properties available but Roofstock only provides gurantee for SFR
Rent Guarantee
(Discontinued*)
2.5 Stars
Only For SFR and choosing Roofstock Certified PM
Money Back Guarantee
(Discontinued*)
2.5 Stars
Only For SFR
Property Inspection Report
5 Stars
A very Detailed Inspection Report
Property Management
5 Stars
Good Vetted Property Managers
Roofstock Support
5 Stars
Outstanding Team
Due Diligence
2.5 Stars
Roofstock performs careful due diligence but you have to primarily rely on Roofstock for Due Diligence.
Property Returns
2.5 Stars
Decent Returns but not great
Quality of Tenants
0 Stars
Roofstock informs you about Tenant situation at the property but you have no control over the quality of tenant living at the property
Total Star Ratings
3.25 Stars
Based on my evaluation, the Roofstock only got one negative point and got a good star ratings of 3.25 stars. This counts for strong recommendation point for Roofstock.
There you have it all on Roofstock Review from my side. I totally recommend you to check out Roofstock if you are planning to buy an investment property to rent. And, if anyhow, you are looking to buy a property in the Roofstock operational areas, you know nothing is better than searching on Roofstock.
And, if you are reading this review and still not sure whether to even buy a rental property or not, do check out this article "Can You Really Become Rich With Rental Properties"
Let me tell you I have chosen Rental Properties as path to achieve Financial Independence for myself. And I firmly believe, you can do it too. So just go on and pull the trigger. There is no better day than today to take charge of your financial well being. 
Share the same passion as our community? Do you also feel the itch of becoming Financially Free? Wish to learn Rental Property Investing? 
Every Week, we come up with lots of good information on Rental Property Investing and how you can manage your Rental Business on our blog. Get the dose of all the good information
Hey Wait, don`t be so mean
You have got a good dose of information from the above. You can`t mean to only use this information for your own benefit. The world will appreciate you for taking a minute to share it with them. And ya! We (as in me and our readers) are waiting for you to come back and share your experience with Roofstock. 
Tell us, how is it hanging out with Roofstock?? Comment Down Below
Like this article? Wish to read more such interesting content related to real estate. Join our community and do subscribe to our newsletter to be informed when we publish new content every time.