Buying a house that has tenants- Are you a careful investor?
Real Estate creates more money than all industrial investments combined. 90% of the millionaires become millionaires through owning real estate. So, if you are investing in a house, be it for your primary residence or as an investment property, it is a worthwhile decision. However, buying a house that has tenants already is not all rainbows and profits. It can become a complete disaster if you are not careful.
Stay away from buying a house that has tenants if it is solely for owner occupancy. Keep your motivation under check and do not involve in this deal until you are getting a really solid bargain. But if you are buying this house for investment purposes, having tenants can be a make or break depending upon the conditions.  
Risks associated with buying a house that has tenants
The biggest motivation for any investor in buying a house that has tenants is the immediate cash flow coming from the property. Moreover, it also becomes easy to secure a mortgage if you have payments coming every month from the property. But have you thought of the risks that come with such a deal and whether you have solutions to these? Let us address all such risks of buying a house that has tenants already living in.
Buyer obligations to the Current tenants
When you are buying a house that currently has tenants, the foremost thing to understand is that having new ownership doesn`t change the existing lease with the tenant. Buying an already occupied property, you inherit the tenants. You have to abide by the terms and conditions already placed in the lease. Even if you want, you can't evict the tenants just because you are the new owner and you want the tenants out. You have to wait until the lease expires. Check what the lease says and how long the lease will expire. 
A month to month lease, no question on removing the tenant. Simply give them a 30 Day Notice to vacate. If the tenants aren't on the lease, then also you can evict the tenant by giving proper notice to vacate. Ensure to check your local state laws for the duration of notice needed. Some states require a 30-day notice and some may require a 60-day notice. The only concern arises is when the tenant is on a year-long lease. In that case, you have to wait until the lease expires. 
---
Buyer Options: 
Sometimes the lease does contain a special addendum which states the seller can terminate the tenancy if he chooses to sell or transfer his interest or right by giving a month notice to the tenant. Check whether the lease has such a provision. If yes, you can ask the seller to clear all the contingencies before closing the deal. Even if the lease does not have such an option, you can try cash for keys. You can offer the tenant a buyout for the existing lease.
---
Are you ready to take up landlord responsibilities?
Landlording is no easy task, especially if you are becoming a landlord for the first time. You are considering investing in a property that has tenants. And this comes with its own risks. Even if you are not investing in for your own occupancy. It also doesn't mean you are investing to start a rental business. You may be a type of investor who is simply looking for a fix and flip. If this is your case, it is better to stay away from the tenant-occupied property and look for other options. 
But if you are investing in this preoccupied property to start a rental business, there are still a few things to consider. A Rental Property Business is not always about having tenants on your property and collecting rent every month from them. As a landlord, you are bound to provide a warranty of habitability to your tenants. If you are new to landlording and are unsure about the warranty of habitability, read our complete guide on Landlord responsibilities towards tenants. 
---
Buyer Options: 
Still not sure whether you can deal with toilets and tenants? Being a rental property investor, you can always consider outsourcing all the landlord responsibilities by hiring a property management company. The only thing you need is to calculate the profitability of your business whether your margins allow such type of outsourcing or not.
---
Quality of Tenants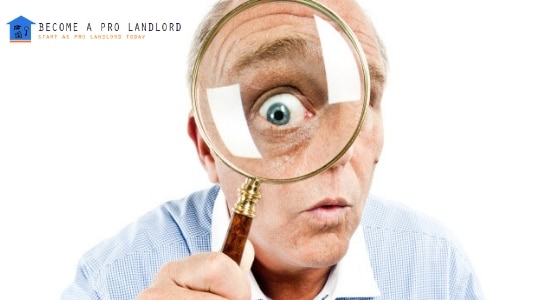 Tenants are the lifeline of a property rental business. Having good tenants on the property, you have a 90% chance of becoming successful in this business. But, buying a house that has tenants already; you are not sure of having good tenants? What if they are bad or disgruntled tenants? What if the previous landlord has put up any tenants without any selection criteria just to air a good deal? Anybody can fall for the idea of having a property that has tenants already which provides cash flow every month. But, can you take a chance?  
Buying a house that is currently occupied, you are inheriting the previous tenants. These tenants might not pay their bills on time. Or, there can be some long term tenants staying who don't even pay the rent at all. I mean this can be a reason why this previous landlord is selling this house in the first place. Why on earth would anyone sell his house if it is an asset?
You might be getting some red flags now on buying an already occupied home. But let me tell you that you need not focus on the seller`s reason for selling the property primarily. You need to see whether this deal is profitable for you or not. And how can you judge what kind of tenants live in the property?        
---
Buyer Options:
Being an investor, you need to be sure about the quality of tenants living on the property if you are buying a currently tenanted home. The first thing you should do is to physically inspect the property before making the purchase. Generally, a maintained property signifies having quality tenants and a responsible landlord. Secondly, you can ask the seller what screening criteria he has used to qualify the current tenants. Review the lease, the current landlord has with the tenants.
Remember to take an estoppel certificate from both the seller and the current renters. It will help you address the current lease terms and stop the tenants from making false claims regarding anything. Be it the arrears in rent, security deposit with the landlord and the fittings and furnishings provided by the current landlord. An Estoppel certificate protects a buyer from having unnecessary claims by pre-existing tenants when they move out of the property.
---
Can you increase rent or make renovations?
As an investor, you see scope in this currently occupied property. You feel as if making some renovations to the building can help you increase the cash flow. So, why not do it? Sure, you can make renovations with the permission of the current renters. But that doesn't mean you can also increase the rent. Legally, you have to wait until the current lease of the tenants expires. 
If you are buying this currently occupied home just to fix and flip, definitely you should consider some other property. But if you are investing in this property for every month`s rental income, you can wait for the current lease to expire. As you are holding this property for long. So, the scope of increasing the cash flow remains with you. You can make the necessary renovations and increase the rent once the current lease expires. 
Should You buy a house with existing tenants?
Being an investor, you need to be certain where you are putting your hard-earned money to. Whether such an investment will reap you required returns or you are just investing in speculation. And, if you consider investing in buying a property that has tenants, it is actually a good investment opportunity for the rental investors.
There is no question on why investing in rental property is a wise investment decision. But let me tell you how buying a house with tenants can even maximize your rental profits.
When a seller markets a deal for selling a house that is currently tenanted, his buyer options are limited. Hardly any buyer will turn up to him who is interested in buying a house for his own occupancy. So, the seller options now will be limited to only investors. 
Read: Why you should consider Buying Rental Property Out of State today?
And, in my opinion; the only investors which will show interest in such a deal will only be rental investors. No other investors who are interested in just fix and flip will come close to this deal. Hence the benefit can be churned by you as fewer buyers will be interested in this deal. Don't shy away from negotiating a much lower price than the seller has expected.  
There are a lot of things that can go wrong when you start a property rental business. One of which is your rental property is not compliant with the state laws. And if that happens and you are not able to comply within a given time frame. Your rental unit is declared unfit for renting and you can lose your business in no time. 
But when you are buying a property that is already occupied by tenants, such chances become very less. And you can then pursue your rental business with ease. However, it is wise if you verify the same with local authorities first hand before making the purchase. 
Starting a property rental business is no easy task if you are doing it for the first time. Having a rental property is one thing. But getting tenants to live on that property is a task in itself. You need to advertise your rental property, arrange open houses for the prospective tenants and so on. All these require additional effort and takes time. There is no surety that you will get the tenants from day one when you open it for the tenants. 
Read: How to ensure your property is ready for the tenants?
When your rental property is ready to be occupied and it sits empty for say a few days or maybe months; you lose money.  But when you buy the house that has tenants, you are getting tenants from day one to live on that property. You save a lot of initial efforts, time and money in setting up your rental business.  
Additional Tips on Buying a House that currently has Tenants
"Real Estate is limited. They are not making it anymore. Don`t wait to invest in it"