Make Money Investing in Real Estate For Beginners (How To Start)
When it comes to making money, real estate has always rewarded its investors with the highest returns with the least risk. As a beginner who is considering an investment, real estate is a blessing and a perfect opportunity to garner wealth. There is no better investment than investing in real estate which has created more millionaires than any other investment combined. 
Real Estate is no longer just reserved for the Riches. Even a beginner can start to make money by investing in real estate with little money. You just need to understand the very basic principles of real estate in order to start making money with real estate.
Why Invest in Real Estate?
Robert Kiyosaki has once quoted that Real Estate investment done even on a small scale has the potential to build individuals' cash flow and wealth. No doubt there are various investment vehicles and financial instruments available for beginners nowadays. And they even claim high returns and less risk. But not even one of them be it stocks, or mutual funds offer the type of advantage a real estate offer. 
Owning Real Estate is a real asset provided you know what you are doing with it. 

Real Estate possesses intrinsic value. It is a non-perishable asset

It never loses its value, only it tosses with time.

Real Estate is for real and not some speculation

Real Estate is limited. Not everyone can own it.   
Read: Why Real Estate and not Stocks will Build Wealth For You?
---
What are the Ways to Make Money with Real Estate?
There are more than one-way investors can make money with Real Estate. But not every way is suitable for everyone. Your goals and situations can be different. Making money is absolutely the ultimate goal. But you can be someone who has little money in your hand. Certainly, your way has to be different compared to someone who has a lot of money to put in an investment. 
There can be some investors who can`t wait for long to have a big fortune and wish to have it even from the first deal. And there can be someone like me who can wait a little longer to build an empire of recurring fortunes. Anyway one can invest to make money with real estate through
1. Investing in REITs 
Real Estate Investment Trusts often referred to as REITs give a chance to individual investors to own a stake in companies that invest in real estate properties or generate revenue through real estate transactions. With REITs, you are not required to do the leg work instead the company does all the work for you. You simply own a stake in the company and can start with as low as $500. 
Learn more about Investing in REITs
2. Wholesaling Properties
Wholesaling Properties is a good way to make quick profits with real estate. A wholesaler contracts a property with a seller to sell it to an interested buyer. You make a profit by making a contract and then selling the property or the contract for a higher price than the price set with the seller. 
This way of making money with real estate works best when you work with distressed sellers. Signing a contract requires you to pay some earnest money to the seller. Generally, you pay anywhere about $500-$5000 as earnest money to the seller.  
3. Lease-Purchase 
Lease-Purchase can be an attractive option for making money in real estate. Leasing a property refers to making a contract with a seller with an option to buy a property in the future at a set price. You can take profits from this deal in the bullish market when the prices are trending upwards. 
Making a Lease purchase, you enter into a contract with the seller where you can either rent the property from the seller and make a purchase later. Or you can sublet the property at a little higher rent than what you are actually paying to the seller as monthly lease payments. In general, the term of such leases can stay from 1 year to max 3 years. 
With the lease option, you have to oblige to the term of the lease and at the end of the lease, you have to make a purchase. For putting up a lease, you pay some option money of about 1% of the Property Value to the seller to exercise the lease. The Lease Purchase option works best for an investor who has trouble securing the mortgage today but is able to do it in the future.  
4. Buying Rental Properties
Buying Rental Property is the most sought after and profitable way of making money with real estate. You buy properties and put the property on rent. Your tenant will pay you rent and you earn cash flow every month from the Property. 
Indulging into Rental Property Business, you make revenue streams for yourself which pays you money for the rest of your lifetime. Buying a rental property, you have a way to earn passive income and can achieve financial freedom early on in your life.  The best thing you can start making money from Rental Properties with as low as $10,000. 
Read: How to Buy Your First Investment Property To Rent?
5. Fix and Flipping Houses
Fixing and Flipping Houses is also a way to make money with real estate. You buy a house, make necessary repairs, and then sell for a profit. With fix and flip, an investor generally obtains a mortgage who doesn't have enough cash either to buy a house or to make renovations. Once the project completes, this investor sells for a good profit and pays the balance mortgage. 
---
What is the Best Way for Investing in Real Estate For Beginners?
You can make money from real estate by using any of the above methods. But every method has a different approach and hence not every method is suitable for you. It is better if can you understand some basic pros and cons of these different ways of investing in real estate. This way you can take action in an informed way. 
Ways To Invest in Real Estate
Pros
Cons
How much Money Needed?
(Minimum)

REITs
No Entry Barrier

Completely Passive

Not Investing in Actual Real Estate

But in Shares of the Company Dealing with Real Estate

High Volatility

$500
Wholesaling Property
Can Make Quick Profits
Need to be Good at Marketing

Taxes will eat most profits.

Not Passive

$500-$5000
Lease Purchase
Moderate Risk

Good Profits

Cash Flow

Need to be Good at Marketing

Taxes will eat most profits.

Not Passive

1% of Property Value
Buying Rental Property
Recurring Cash Flow

Leveraging

Appreciation

Tax Benefits

Manage the Property and the Tenants
(Can be Outsourced using Property Management Company)*

$5000-$10,000
Fix and Flip Properties
Good Profits
Marketing Skills Required

High Risk of Not Selling

High Taxes

Not Passive

Requires Expenses Budgeting

$50,000
---
How Do You Make Money With Real Estate?
1. Understanding the Principles of Making Money With Real Estate
An investor makes money with real estate if the investment meets the money-making principles of real estate investing. Real estate profits depend on these two principles. 
1.1 Cash Flow
If the real estate you are considering buying can provide you cash flow, you will make money from that real estate. Cash Flow is the amount of net cash you get from a real estate activity or a business after deducting the expenses from the gross profits. 
When you invest in REITs, you get cash flow in terms of dividends.
If you wholesale property, your cash flow comes from the sale of the contract or the sale of the property after deducting the expenses (Realtor Fees, Contract Fees, Marketing Expenses, etc).
The Cash Flow from the Lease Purchase comes as the rents you collect minus the Monthly Lease Payments and any other expenses. Or if you aren't subletting, your cash flow will come after the sale of the property minus the expenses incurred until the transaction has not completed.
When you buy the Rental Property, you get cash flow every month in the form of rents minus the expenses you make in your rental business.
When you Fix and Flip Houses, your cash flow is the remainder of the amount left after making repairs, paying mortgages, realtor fees, etc. from the final sale price of the home.
1.2 Appreciation
Real Estate has a tendency to appreciate with time due to inflation. You buy real estate for say X amount and after 4-5 years, it appreciates to X+Y amount. And if at this point, you choose to sell, you will make money with your real estate through appreciation. Though, appreciation only matters when you are actually selling your real estate or refinancing the current real estate. 
Therefore, when you invest in real estate, the first thing you should consider is the cash flow from property even before the appreciation. Simply counting for appreciation is like a gamble and you can fail terribly. The future is not certain and can only be predicted.
So, always remember to first analyze the way you are investing in real estate. Whether it can provide positive cash flow or not. If yes, you absolutely will make money from that real estate deal. Sometimes, a beginner investor makes a mistake, and instead of getting positive cash flow gets negative cash flow from the property. 
Read: What is Negative Cash Flow? 
2. Understanding Your Goals to Make Money With Real Estate
If you are to invest and wish to make money from real estate, you need to define your goals clearly. Making money is a broad goal. Certainly, you will make money if you invest in real estate.  But what you need to understand is your goal 
Do you want to invest in real estate to earn good money and increase your bank balance?

Do you want to get rich in the next 5 years? 

Do you want to become rich or you want to become wealthy?

Are you investing for the dollars or for the passive lifestyle?

Will you still invest if it takes more than 5 Years to become wealthy?

Will Real Estate Investing be part-time work for you?
If it is just the money that you need and getting rich faster, you can use any of the above ways we discussed to make money in real estate. Even better, you can make more money in less time with less work by investing in stocks or bonds. Because, when your goal is just the dollars; you will anyway lose money. 
But if it is about the lifestyle and the free time you want in your life. There is only one way of achieving wealth and becoming financially free. And for that, you need to invest in buying rental properties. The only gateway to make wealth from real estate is by owning rental properties. 
Remember, there is a difference in becoming rich and becoming wealthy. By becoming rich, you can have lots of dollars but not necessarily the time to enjoy those dollars. But when you are wealthy, you have all the time and the money in life to do whatever you want.   
---
How Owning Rental Properties can Make Money in Real Estate? 
When you own a Rental Property and start a rental business. You take benefits from both the principles of making money with real estate i.e the cash flow and appreciation. Renting your property, you get cash flow every month and your property tends to appreciate with time. 
Furthermore, the benefits of owning a rental property are not just reserved to cash flow and appreciation. Instead, you can acquire more cash-flowing properties with just one rental property through leveraging. 
Read: How owning Rental Property actually benefits its Investors?
Imagine starting with just one property and having an empire of rental properties through that one rental property in some years. Just imagine the cash flow you will then be getting every month. This is the real path to build enormous wealth that no other way of making money in real estate can provide you. 
Leveraging Rental Properties To Make Money in Real Estate 
Leveraging is a great way to build wealth with real estate. You can buy Rental Properties by using leverage and further use it again to buy more cash flowing rental properties. Leveraging is using some kind of financing to make a purchase. It is just because of leveraging that you can start rental property business with as low as $5000- $10,000.
Not only, you can secure a mortgage to buy the first rental property but you can also leverage the first rental property`s equity to buy more rental properties. Still unsure how leveraging works in real estate? Here is an article to learn how wealth is built using leverage in real estate?
Read:  Can You Become Rich with Rental Properties?
---
Can You Make Money in Real Estate with $10,000?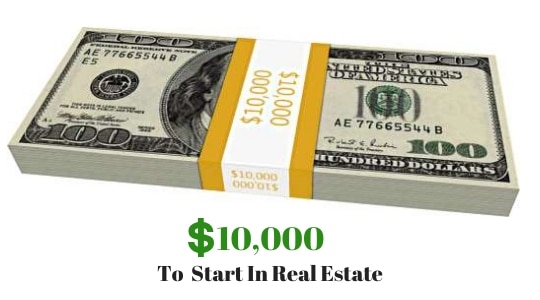 You can buy a Rental Property by using financing available for investors. There are various types of financing options available ranging from conventional loans to VA Loans and FHA Loans.
Conventional Loans: Requires 20% Down Payment
VA Loans: 100% Loan to Value Funding
FHA Loans: Requires 3.5% Down Payment
Among these, the most recommended way of obtaining financing is going for an FHA Loan. As the VA Loans are reserved for only Veterans and their families. And the conventional loans require a high down payment of 20%. 
Read: Can you buy a house with no money down? 
Suppose a house costs $200,000. If you have to obtain an FHA Loan. You are required to put 3.5% down i.e. $7000. Though the FHA Loans are reserved only for the owner-occupied homes. But after one year of occupancy, you are good to go for renting this property.  
Getting Creative with FHA Loans to Invest in Real Estate
FHA Loans are a blessing for Rental Investors. By becoming a little creative you can start your rental business from Day one. No doubt that FHA loans are primarily reserved for owner-occupied properties. 
But if you want, you can buy a multi-family property. The benefit of this is that you can occupy one unit and rent the rest of the units for some good monthly cash flow. However, the maximum limit for a multi-family property is reserved to a max 4 units and in which 1 unit has to be occupied by the owner.   
A Multi-Family Property usually starts at 220,000. Putting 3.5% down, you can start your rental business as low as $7700. Though there are various closing costs and other costs involved in buying a real estate. But still, you can be able to start making money from rental property under $10,000. 
Good FICO Credit Score is the Key
You definitely can make money with Real estate even if you have $10,000. But the key is you need to have good credit scores to be able to qualify for FHA Loans. In general, you are required to have a FICO score of 580 and above to be able to secure an FHA Loan. The better the score, the higher the chance of securing a mortgage.  
FHA Loan Requirements
Minimum Credit Score
580 and Above
Interest Rates
3.875%-4.25%
Down Payment
3.5%
Loan Flexibility
No (Only Owner Occupied Homes)
Mortgage Insurance
Yes
Make sure you have a good credit score and remember to check your credit report before applying for a mortgage. A Low FICO score reduces your chance of securing a mortgage. Not only it reduces your chances, but a non-successful approval further hurts your credit report. 
if you aren`t sure of your credit health, you can use Experian to get your Credit Report.  With a credit report, you can become sure of whether all the information on the report is in order or not. If you find issues or concerns that are hurting your credit health, take steps to correct it.  Further, if you find yourself stuck with a low FICO score, you can simply use the Experian Credit Boost to boost your score instantly.
But What If you already have an Owner Occupied Property? 
If you already have an owner-occupied property, you can't use an FHA Loan to fund a second property or an investment property. But you can always use the equity present in your current home by taking out a Home Equity Loan, a cash-out refinance, or a HELOC (Home Equity Line Of Credit) to purchase an investment property. 
All these Equity Loans help you access the equity present in your current home. And using this equity, you can purchase another property. Equity loans even work for those who have a history of bad credit and a low credit score. 
The lenders offering these types of loans are more concerned with your repaying capacity rather than a low credit score. They mostly look for your Income to Debt Ratio. Your income must be sufficient to repay the loans. The best thing is that the lenders even consider the rental income that can come from your rental property in your income sources.
Read: How to Pull out Equity From your Current Property?
---
Bottom Line
Making Money with Real Estate is not difficult as it seems to most first time investors. It takes the right knowledge and action to start making money from real estate. If you are ready and wish to procure a lot of wealth for yourself, start today and take the right action. 
I hope by now, you have been able to decide your course on how you are going to invest in real estate to make money. And if it is the Rental Property Business that you wish to start? Here is an excellent resource on Starting Rental Property Business in simple 14 Steps today.